WHALEN FAMILY HISTORY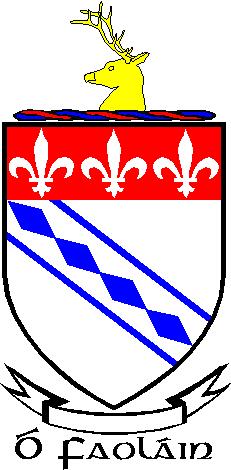 O'Phelan

Whalen/Whelan/Phelan/O'Phelan

"The name Whalen/Whelan must be dealt with in conjunction with Phelan, as they are anglicized variants of the same Gaelic surname, viz.Ó Faoláin, which itself has variant forms such as Ó Faoileáin and Ó hAoláin.

Whelan is more numerous than :Phelan: it alone stands seventy-ninth in the list of the hundred commonest in Ireland; with Phelan added the name takes forty-fourth place, with an estimated population of about twelve thousand persons.

In the last year (1960's) for which such statistics are available 214 births were registered for Whelan and 93 for Phelan. Eighty per cent of the latter belonged to Counties Waterford, Kilkenny and adjacent areas; while Whelans exteneded further into Wexford and Carlow. Many, of course, were born in Dublin, but in considerations of this kind the metropolitan area can be disregarded.

It is natural that the present day representatives of the sept of O'Faol'ain should be found in the places mentioned, because their chiefs were Princes of the Decies before the Norman invasion, while a branch of the sept was settled a little further north in the south-west part of Co. Kilkenny. One of these, John Phelan, was Bishop of Ossory at the time of the Catholic resurgence under James II. The gentleman who styles himself "O'Phelan, Prince of the Decies" (a claim not allowed by the Genealogical Office) was born Whelan; the well known writer S'ean O'Faolain is the son of Denis Whelan. Another distinguished Whelan was Leo Whelan, R.H.A (1892-1956), the portrait painter. Of those using the form Phelan the best known are Edward Joseph Phelan, the Director-General of the International Labour Office, formerly of Dublin, adn Frederick Ross Phelan, a distinquished Canadian soldier. In the United States, Phelans have been prominent, notably James Phelan (1824-1892), Leix-born pioneer, and his son James Duval Phelan (1861-1930), senator and mayor of San Francisco.

O'Phelan Crest:
Argent four lozenges in bend conjoined azure between two cotises of the last, on a chief gules three fleur-de-lis of the first. Crest: A stag's head or."

Copied from article posted here on goireland.com website.