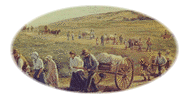 EARLY SETTLERS
---
Jackson County, Tennessee was formed on November 6, 1801, just 5 years after Tennessee became a state on June 1, 1796. Prior to Tennesse statehood, the area currently constituting Jackson and Clay counties was part of Davidson County, North Carolina. On November 15, 1786, Sumner County, N.C. was formed from Davidson County. Thus, at Tennessee statehood, the area now know as Jackson and Clay counties was within Sumner County.

Research of Jackson County records has been severly limited due a court house fire on August 15, 1872, as reported six days later by the Nashville Union & American. Extant records which escaped the fire include Chancery Court minutes which the clerk kept in his personal possession, some court records in the possession of private citizens and court records from suits on appeal to the Tennessee Supreme Court (ref). The 1800 and 1810 Federal Census for all of Tennessee were also lost due to fire. However, the 1790 U.S. census for Sumner County survived, but does not list any Butlers (ref). The earlist records for Jackson County appear to be Federal land and tax records, military records, some family bibles, legislative records and correspondance. These records (as available in the Tennessee State Library and Archives in Nashville, the Family History Library in Salt Lake City, the National Archives and regional libraries), are limited and very sketchy. Nonetheless, I have attempted to trace the following early Butlers in Jackson County:
Bailey Butler (1777-1839)
Bailey Butler, Jr. (1803-?)
Edward Butler, see land grant.
James Butler (born before 1777 - 1839)
John Butler (born between 1775-1794). See 1820 Census.
George Butler (born between 1775-1794). See 1820 Census.
Price Butler (born between 1775-1794). See 1820 Census.
Thomas Butler (1777- )
Welcome Butler (1797-1849)
William Butler (1795-1854)
According to the U.S. Census, the population of Butlers in Jackson County fluctuated from 8 heads of households (45 individuals) in 1820; to 13 heads of households (108 individuals) in 1830; 12 heads (75 individuals) in 1840; to 18 heads (84 individuals), in 1850. However, by 1860, the number of Butlers in Jackson County had dropped dramatically to only 6 heads of household and 33 individuals. Why so many left in the 1850s and what happened to their land is not clear. William Butler stated that he left for Illinois because "the country there is newer, the range is better, land is cheaper". (Affidavit, March 25, 1844). Others may have left because of an opposition to the salvery issue which was heating up by this time. (None of the Butlers who left in the 1850s had slaves according to the 1850 U.S. Slave Census (fn) and it appears that the majority of those who left, went to free states including Illinios and Missouri).
Hopefully, more records will surface to assist those of us researching the Butlers of Jackson County, Tennessee. If you have any documents which would add to this effort, please contact me.
---
Copyright © 1998 Cass Butler
Updated October 5, 1998 Contact me at mailto:cassbutler@cnmlaw.com